If you are a ModelWorks owner and interested in taking over this website, please let me know.
Nicholas Crook wrote to me on 9th August 2004 thus...
Let me know if you want to contact Nick.
...I am now pleased to tell you that after much design modification & testing I have finally now steamed the loco for the first time & completed several circuits of my local track. I would be delighted to offer any advice to any other builder who may be encountering their own problems. Please see the attached pic taken during the first run.
Let me know if you want to contact John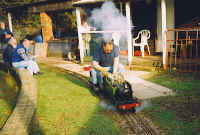 ---
Latest 5" Britannia/9F Goodies from Doug Hewson (as at Jan 2004)
Class K water valve

---
Important Information for Former Customers of Winson Model Technology
Jon Spalding, Mark Watkins and his wife Gillian Watkins have been banned from being directors of a company for 5 years. Click on the article below for full details. (Please note that ModelWorks, who bought Winson's assets following its demise, have nothing to do with Winson or its management)
---
Pictures of Alfredo Campanini's Tiger Tank
Click here to read Alfredo's article abut how he built his beautiful Tiger Tank
---
Want to get better access to your model? Find out how Roger West turns his over here
---
Stolen Locomotive!


I am sorry to say that one of our number, Mitch Barnes, has had one of his locos stolen. For details please click here.
---
Take a look at John Clarke's latest tank pictures here
---
Sneak a peek at the ModelWorks factory by clicking here
---
More pictures of the 'General' here
---
Wembley 2002
FULL SHOW REPORT - CLICK HERE!

New products announced by ModelWorks at the show included:
- a BR 16 ton Mineral Wagon (designed in collaboration with Doug Hewson)
- a 5" Gauge GWR 5700 class Pannier Tank Engine
- the second model in the military vehicle series - the Pz.Kw.V Panther Tank
- a new range of Historic Clock Kits.
---
ModelWorks Product Quality Survey
Find out what customers are saying about the quality of the new company's products by clicking here!
---
'Click the Pic' to see the latest pictures of Greg Jarossy's excellent Tiger Tank
---
CONTACTING MODELWORKS
You can now contact ModelWorks (the new owners of Winson Model Technology) by e-mailing them on info@modelworks-int.com or click
the graphic below to be taken to their web site at
www.modelworks-int.com
Their address is: ModelWorks International Ltd, 3 Riley Close, Royal Oak Industrial Estate, Daventry NN11 5QT Telephone: +44 (0)1327 301030
---
Purpose of this Web Site
This is a privately run web site* for the owners of kits produced by Winson Model Technology Ltd and ModelWorks International Limited. Its aim is to publish information for the assistance, convenience and interest of Winson's former and ModelWorks' current and future customers. If anyone has any information (or knows where it can be obtained) that they think could be useful, please would they send in their suggestions by e-Mail. It would also be interesting to hear from anyone who has any ideas about how this site can be improved.
---
Contributions needed from YOU!
The usefulness of this website is proportional to the amount and diversity of information contained within it. An important source of information is of course the owners of Winson models themselves. The house magazine 'Fastrack' used to provide an excellent source of this sort of information but has not been published for some time. Therefore, please consider writing an article or submitting build photographs about your Winson model for inclusion in these pages. From the feedback that I have already received I know that people will appreciate your experience. I can accept text in just about any format and photos preferably in .JPG or .GIF formats. If you want to contribute, or even just considering it, please send an e-mail to nigel@fraserker.com.
---
Dedication
This site is dedicated to my long suffering wife Fenella who now feels that the only way to get a response from me is to send me an e-mail with the word 'Winson' in the subject line!